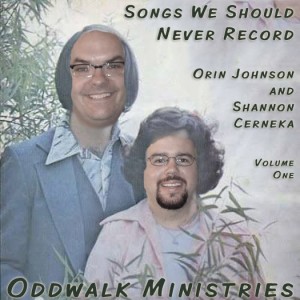 Hello everybody! Boy, did we have a blast at NCCYM in San Antonio this past weekend – we hope you did too. We're happy to make available to our visitors, absolutely free, various versions of our small piece of the Friday Night Youth Ministry Extravaganza, "Songs We Should Never Record." Many people have asked us about video, audio, or lyrics – and they're all here!
First, the video:

g
g
g
g


And, an mp3 you are free to download!
♫ SongsWeShouldNeverRecord.mp3 ♫
(use the pic above for artwork – click to enlarge – if you like!)
And a pdf with all the lyrics and a few of the images from the show: songsweshouldneverrecord.pdf
The mp3 is also out on the pOddcast now, if you are a subscriber!
We also want to add a special word of thanks to our friend Mike Kivett, who penned the words to "There They Go, Lord." Mike is a great live audio technician, he helped us with our first couple self-produced CDs, and most importantly is an all around good egg. When he heard some our silly stuff we were asking him to record, he shared with us his little creation, and we're certainly glad he did. Thanks, Mike!
And thanks as well to the NFCYM for a great conference as always, and great NCYCs the other years. See you next fall in Indy!

---
PS – A couple people have asked us about the lyrics to the "Stand By Your Man" parody we sang as part of the finale of the night. Those words were written by Bob Rice, here they are:
Sometimes its hard to be a pastor,
Caring for all those ministries.
Absolving all those sins, the roof is caving in,
And the youth room needs a 55 inch flat screen high definition TV.
Stand by your man,
Give him an ear to listen.
It's hard, he's always giving,
And you are kind of needy.
Stand by your man,
And even if he's awkward,
Make him look as cool as you can,
Baby! Stand by your man.