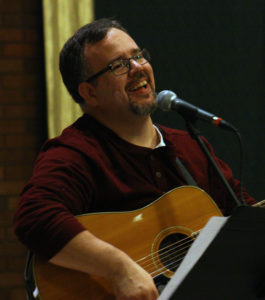 Shannon Cerneka is originally from Belleville, Il., and although has lived in a number of cities during his lifetime, claims Belleville as his hometown. Although his family did not have much material wealth as Shannon was growing up, there was always lots of love and humor, and support from a large and loving extended family. The Church, through Boy Scouts, TEC, CYO, his home parish, and the Shrine of Our Lady of the Snows also played a big part in Shannon's formation.
Ever the extrovert, Shannnon loved singing and performing and acting silly for people. Shannon taught himself to play guitar and began writing songs in high school. He'd play for CYO events, began offering his gifts to the local TEC center as weekend music directors and playing for parish liturgies.
When he graduated from high school, Shannon joined the Illinois Air National Guard and served for four years. He stayed involved with these groups and continued to grow in his love of the Lord and realization of His good gifts. Soon after being discharged from the Guard, Shannon felt the call to ministry and enrolled in the Youth Ministry Certificate program offered by the Center for Ministry Development. Upon completion of the program in 1999, the Lord called Shannon to move to Jefferson City, Mo. where he served as the Director of Youth Ministry at St. Peter Parish. In 2011, he became youth minister, music teacher and campus minister at St. Peters in Fulton MO, where he continues to enjoy working today.
Shannon met Erin Ramsay in August of 2000 at a TEC function and they became friends immediately. After several months of friendship, they began a dating relationship in spring of the next year. Shannon proposed on Easter Sunday, 2002 in the presence of the people most important to both of them – their families. They were married in May of 2003, in Erin's hometown of Fulton, Mo. They have since moved to Fulton where they celebrated the birth of daughter Madeleine in 2004, son Noah in 2006, so Aiden in 2009, and son Liam in 2012. Together, they continue to live their faith and share their gifts with the people of their community.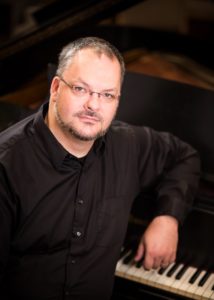 Orin Johnson grew up in Tyler Minnesota, in the Southwestern part of the state. Tyler is in Lincoln County, one of the only counties in all of Minnesota without a stoplight. Yes, no stoplight. Unless you count the one at the Gas Station Car Wash; most people don't.
His folks started him on organ and piano lessons when he was 6, with the probable intent of his playing in his hometown parish, St. Dionysius in Tyler, Minnesota. He started playing there, for Stations of the Cross, when he was 11, and started playing for Masses shortly after that. He also played the trombone and sang through high school.
In college, Harvard University, he was active in the men's chorus, the Catholic Student Association Choir and several other shows and other musical tidbits. He began seriously writing music about this time, after taking a few classes and realizing he had at least some little ability in the area.
After four years at Harvard (AB in Music and Folklore and Mythology) and two at Radford (MA in Choral Conducting), Orin arrived at the National Shrine of Our Lady of the Snows, in Belleville, IL, near St. Louis, MO, where he was coordinator of music and liturgy from 1998-2012. Since 2012 he has been director of music ministries at Sts. Joachim and Ann Parish in St. Charles, MO.
In December of 2000, he met Erin Hammond. To make a long story ridiculously short, they are now married! The big day was November 27, 2004. They reside in St. Louis with their dog, Gracie.
Beyond Erin and J&A, he also enjoys singing with the St. Louis Chamber Chorus and serving as their Assistant Conductor. He holds an MA in Theology from Aquinas Institute of Theology, and accompanies services at Shaare Emeth Temple in St. Louis. He has been Assistant Director for the St. Louis Archdiocesan Chorus; he's also sung with and rehearsed with the St. Louis Symphony Chorus. He is music minister at Chaminade College Prep, and does worship aid design for the Archdiocese of St. Louis. And many other things, as time permits.