Newspaper and Online News Articles –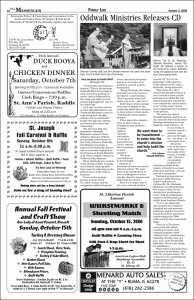 Monroe County (Illinois) Clarion, 
February 3, 2007
Week of Worship
(Catholic Schools Week 2007)
 
Belleville (Illinois) Messenger,
October 5, 2006
Oddwalk Ministries Releases New CD

The Catholic Missourian
(Jefferson City, Missouri)
December 15, 2006
New Oddwalk Ministries CD…

New Ulm (Minnesota) Prairie Catholic,
March, 2009
Oddwalk Returns Home
CatholicGlobe.org, Sioux City, Iowa,
November 2, 2006
800 Teens become Catholic to the Core
Catholic Spirit, Diocese of Austin, TX,
February, 2007
Hundreds of Catholic Teens Gather in Waco
Southwest Kansas Register,
October, 2008
Junior High Youth Rally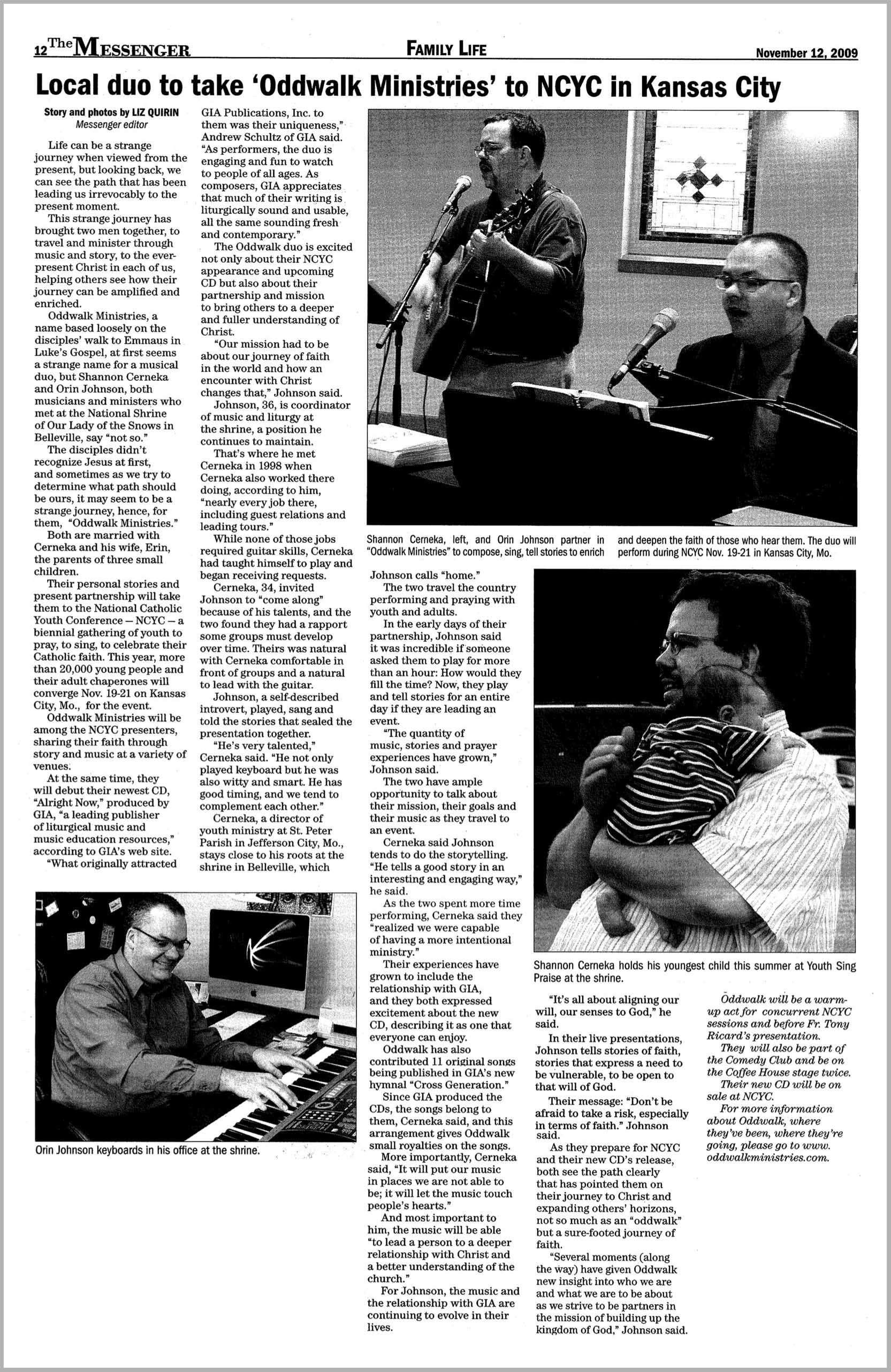 The Catholic Missourian (Jefferson City, MO),
March 20, 2009
New Cross Generation Hymnal
includes songs by . . . Oddwalk Ministries

Congregation Shaare Emeth Bulletin
November, 2009
Oddwalk to Visit Temple, Share Music and Faith

Belleville (Illinois) Messenger
November 12, 2009
Local Duo to take 'Oddwalk Ministries'
to NCYC in Kansas City
The Catholic Miscellany, Diocese of Charleston, SC,
November, 2010
Junior High Students Focus on the Real Riches
Mascoutah (Illinois) Herald
November, 2010
CYO Speaker Touches Emotions
The Catholic Messenger, Davenport IA
February and March, 2011
Rally Presenters Hope Youths Are Open to Christ's Direction &
Rally Gets Students "Fired Up" About Faith
The Northwest Indiana Catholic, Gary, IN
November 6, 2011
Grásta Dé, Diocesan Middle School Retreat,
Challenges Youth to Change the World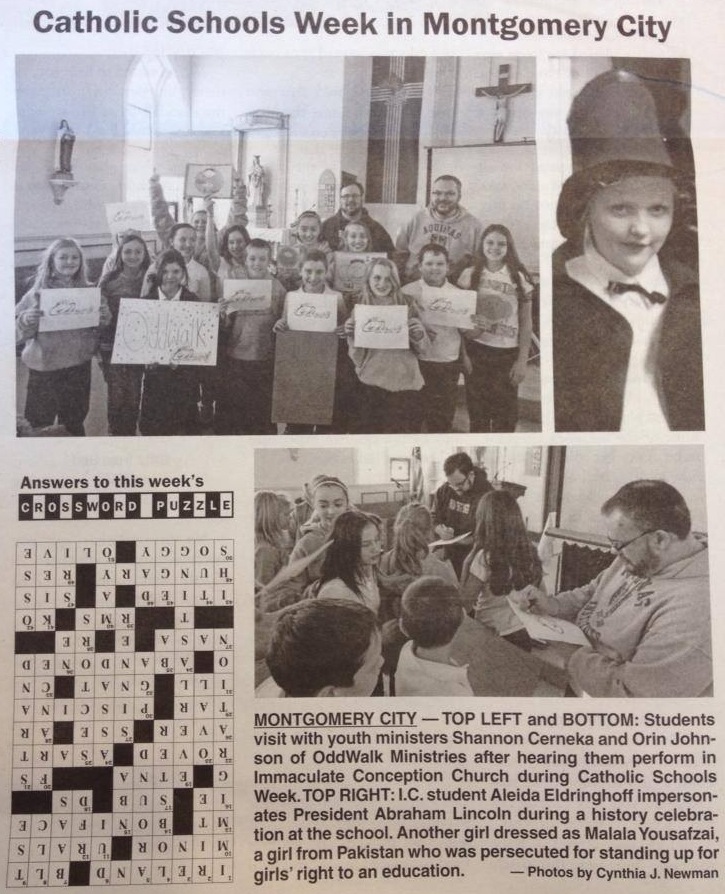 The Catholic Missourian, Jefferson City, MO
February 14, 2014
Catholic Schools Week in Montgomery City
The Belleville Messenger, Belleville, IL
June 5, 2014
Oddwalk creates song for child with cancer
The Catholic Missourian, Jefferson City, MO
March 4, 2016
Cerneka, Johnson fill Oddwalk CD for Year of Mercy with prophetic reminders



iObserve.org, Springfield, MA
April 2, 2017
Youth gather to strengthen and celebrate their faith
Audio – Visit our Lyrics & Audio page for low-quality mp3 samples or contact us for full, high-quality mp3s. Our pOddcasts can be found here or through iTunes.
Video – View our video catalog here!
Pictures – Please visit our Photo Albums – more coming soon!
Event Flyer – Download this flyer – pdf or jpg – to advertise an upcoming Oddwalk appearance – just fill in the necessary details!
Introduction – View a sample introduction to Oddwalk here!
Web Linking – Download one of these graphics to link to us: