But first of all, where'd we get that name?
When Oddwalk is featured at a conference or rally, that responsibility is taken very seriously.  Working in conjunction with local parish, school, or diocesan staff, Oddwalk tailors its message of community, participation, and mission to the local theme and various needs of the community. Engaging music in Oddwalk keynotes often includes Let the Children Come to Me, Get It Together, We Will Go, Lord, Mercy at Work, and much of our concert music as well. Stories might include Orin's prayer as a four-year-old, "Here I am, Lord, I come to do your will" or a fable about a talking, broken clay pot. Oddwalk can also be called upon to serve as emcees, a warm-up act, a main presenter, the house band leaders or prayer leaders. Using themes such as Faith, Vocation, Eucharist, Dignity, Stewardship, and Justice, Oddwalk tries to give to a group a sense of Christian mission and transformation to every group.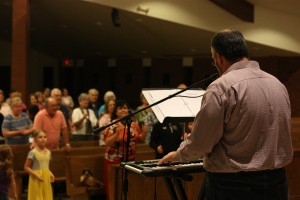 Concerts
Through an uplifting blend of energetic, thought-provoking, and prayerful songs, Oddwalk is adept at providing hours of evangelism and entertainment. Shannon and Orin get crowds on their feet with songs like Matilda the Gorilla, Chickenwire Joe, Come With Your Fire, and For All Time. Audiences are challenged with songs like You Are Love For Me, In My Heart, and Show Us the Way. Finally, Shannon and Orin use songs like Come to Me and I Am to give all people a genuine opportunity to grow stronger in their experience of their faith.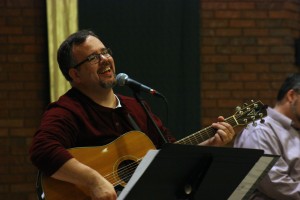 Coffeehouses
This is an area in which Oddwalk shines. Coffeehouses provide Shannon and Orin with venues to share songs and stories of faith that are often skipped over in a high-energy rally or conference. Songs such as What Do You Believe, In the Garden, Remember Your Mercies, and Oh St. Joseph tend to be highlights of a coffeehouse show. Through the intimacy of a smaller show, Oddwalk can take yet another opportunity to witness their faith and help others grow in theirs.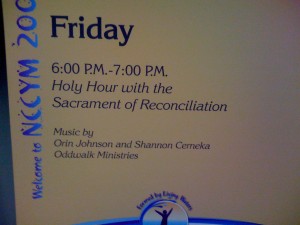 Prayer
When leading prayer, be it mass, adoration, or praise and worship (or any other sacred time), Oddwalk makes sure everyone sings their prayer and participates fully.  Songs like At Your Name, Fill Us, O God, Jesus is Here, and  Bless the Lord My Soul are prayerful favorites, and pieces like To Know Darkness challenge conventional notions of prayer and in doing so help to deepen our relationship with God and our relationships with those in our Christian communities.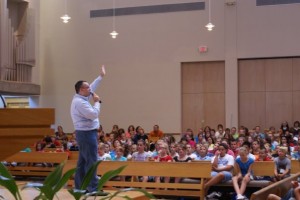 Retreats
Oddwalk retreats are focused on drawing young people into a deeper understanding of themselves and their relationship with God. Through a mix of reflective music such as I Give My Spirit, Surrender, In The Garden, and Anima Christi, witnessing, activities, discussion, and prayer, Oddwalk engages and challenges youth and young adults with the Gospel. Oddwalk has experience providing retreats for 7-12th grade teens (including Confirmation groups) and college-aged and other young adults.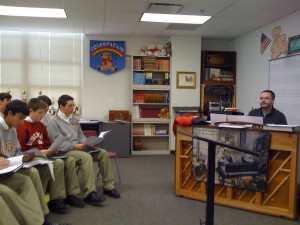 Workshops
Oddwalk workshops (for youth or adults) focus on educating/catechizing in an entertaining way, and preparing leaders of our Church for the challenges that they may face in their parish or school. Music featured at workshops might include Let Us Go, Rejoicing, My Name is I AM, Have Faith, or perhaps more humorous pieces, like May God Bless and Keep You. In particular, our workshops on Liturgy and Liturgical Leadership are effective tools for those wishing to expand and clarify their current knowledge and experience, and for those who wish to grow more deeply into their faith through a fuller understanding of ritual and music.
Contact us for a sample program or for content and schedule of an Oddwalk Appearance!

View our introduction page here!