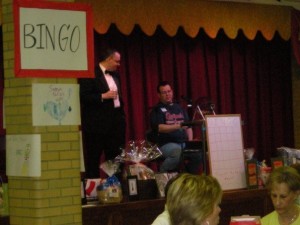 Last Friday night, Oddwalk served as number callers and emcees at our friend Katie's bingo fundraiser extravaganza, Support Katie's Habit.  Katie, you may recall, needs to raise about $17,000 before she can enter a religious order, the Apostles of the Sacred Heart of Jesus, this fall – the order is not able to take on the debt of incoming postulants.
Well, that night over 1/5 of those funds were raised, a whopping $3,887!  Now of course there's still a long ways to go, but there are a couple things you could do to help.
You could always go to her site and just make a flat-out donation.  Or, if you're the sort of person that likes to get things when you give, check out her nifty "I Supported Katie's Habit" t-shirts, sizes Small t0 X-Large, and one can be yours for just $5!  That's right, just $5!  Se the attractive models below: Erin H, Katie, and Meghan M.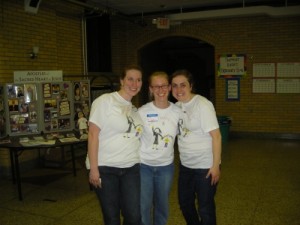 Erin and Meghan coordinated a lot of the night, with a lot of help from other neighbors, students, friends, family and the like.
We'll keep the link up to her site on our sidebar until she's financially clear to join the order.  Stop by anytime!