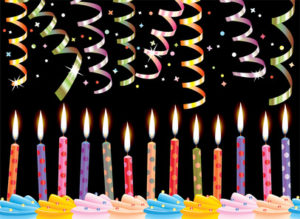 This Tuesday, October 24, Oddwalk turns thirteen years old. Happy Oddiversary to us! We expect to celebrate our jump into these adolescent years by staring at our phones while someone is speaking to us, gushing about our favorite YouTuber, and rolling our eyes at Mom's "oldies" radio station as it pumps out ancient hits by Smashmouth, Oasis, and TLC.
Since this week's blog theme is "joy" , I thought I might reflect back on a few aspects of this Oddwalk experience that have brought me joy over the past thirteen years…
The Moments – There are too many to name here, but a few that stand out include our first booking, (for the Diocese of New Ulm) where we wrote Just Because You Can the night before the show, a CD release party in 2006 where the band performed while World Series game one was projected on the wall, Shannon vs. the Velcro Wall, Youth Ministry Extravaganzas at the NCCYM,  practicing Tom Booth's Sacred Silence at a youth rally to the beat of a triggered fire alarm, Mascoutah conga lines, keytar solos, Orin's ripped pants,
making fun of Dan Lang, being published by and recording with GIA, NCYC workshop warm-ups, and Orin using his…um…wide-ranging music library to play DJ on road trips.
The Band – Anyone who has seen even a few episodes of the VH1 show, Behind the Music, knows that the politics of a band can be dicey, to say the least. This has never been the case with our band.  As you know, when Oddwalk shows up at an event, you typically get Orin and me.  Occasionally,  drummer Rick Turcotte, bassist Dan Lang, and singer/awesome wife (to me) Erin Cerneka are added to the mix for a bit of extra punch.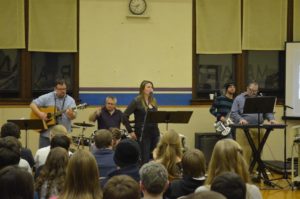 In addition to being really good musicians, these are some of my favorite people on the planet.  We love playing together, but mostly just love* being* together.  In my humble opinion, the best version of Oddwalk is when we play as a full band.
The Shrine – I know it sounds cliché, but we never truly know what we have until It's gone.  Orin and I gained some of our best friends through work we did in connection with the National Shrine of Our Lady of the Snows.  Orin actually served as Music and Liturgy Director at the Shrine from 1998-2012. Through the years, Orin and I performed for many Shrine youth ministry, liturgy, and other events.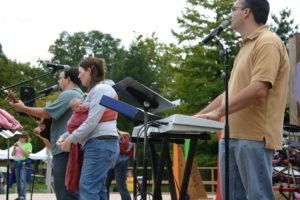 So much of who we are and how we approach ministry can be traced back to our time at the Shrine and the amazing community we were blessed to be a part of. We still see these friends from time-to-time, but I realize now that those years were a moment of time we'll never get back.
The Orin – There is so much I could say here, and it's difficult to know where to start.  One of the things that makes Oddwalk an amazing experience for me is getting to spend time with Orin.  In addition to being a great friend, Orin challenges me and helps me grow as a person, a minister, and a child of God.   Also, Orin makes profound creative and constructive contribution to this ministry.  He makes us look (and sound) good.
I know I'm no slouch.  I'm simply trying to say that Orin is a significant part of what makes us legit.
These are just a few of the things that fill me with joy as I reflect back on thirteen years in this ministry.  While we can never be truly certain what God has in store for us, I hope lots more Oddwalking is a significant part of the mix.  Thanks to all who have take a flyer on us over the years, whether through hiring us, coming to a show, buying our music, or clicking on a link because we told  you to.  We are truly grateful for your support.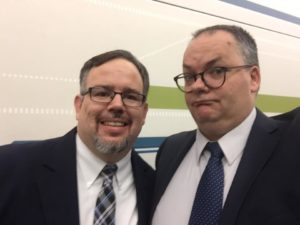 Thirteen years have gone by in a blink.  Here's to thirteen more!
-Shannon