Oddwalk returned today from a quick trip to Anaheim, CA, to give a workshop at this years National Catholic Educators Association (NCEA) convention.
While we were there, we had breakfast with a friend of ours, Bob Rice and his son, John.
We twitpic-ed each other with our iPhones and Tweetie. It was fun and awesome.  Bob noted lately that some of our recent Oddblog postings have been short – so short in fact, that the tweet that goes up from Oddwalk announcing the post is sometimes longer than the post itself, which is hard to do as Twitter limits you to 140 characters.  So, Bob, this post is for you. (The rest of you, you do follow us on Twitter, right?)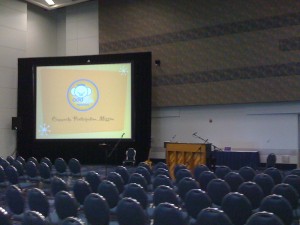 Following breakfast, we headed back to the convention center to set up for and to give our workshop. That's the room we were in, there on the left. We had about 25 show up – which was better than last year, and people seemed to be appreciative of what we had to say and sing.
One thing about this year's NCEA was it was full of crazy turns. First of all there were several typos, including on the sign announcing our workshop: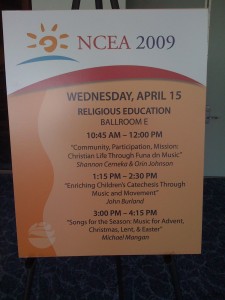 There was too the letter that Shannon got addressed to "Steve Cerneka" telling us our workshop was about 20 hours earlier than we knew it to be. We were excited to see that "The Kidnapper" was back – no, we're not kidding, check out the pic from last year's post.
Then there was the room we got. The last one they had, so they told us. Watch the video below to take a tour – this is the way Oddwalk always prefers to stay – in style. Orin's favorite moment – realizing the room had double doors on the way in the first time. Check it out: