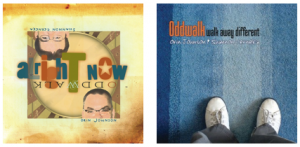 Hey everybody! Now through December 15th, if you purchase both the "Walk Away Different" and "Alright Now" CDs through our website, we will take $5 off the original total price. Normally $30 together, right now you can get them both for only $25 plus shipping!!
Check it out:
http://oddwalkministries.com/oddblog/?page_id=2873
Don't forget to check out our other merchandise – songbooks, shirts, fair trade items, and especially our reduced-price clearance shirts for gifts everyone will love.  Have an aunt who already has everything? Probably not an Oddwalk CD, or a shirt with a keytar on it!