Seems like this picture could use a few captions. You know the drill. Thanks, Michael!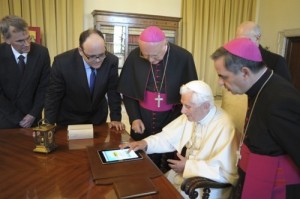 What's really going on: Pope Benedict XVI checks the new Vatican web portal on an iPad device at the Vatican June 28, 2011. Benedict XVI will launch the site, a news information portal that aggregates the Vatican's various media into a one-stop site for all things papal, on Wednesday, the 60th anniversary of his ordination into the priesthood.  REUTERS/Osservatore  Romano
Visit http://www.news.va/en for more!