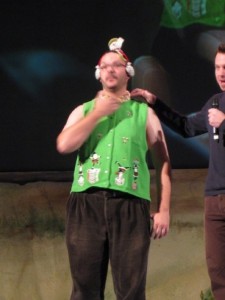 First, thanks to a random Facebooker for the pic!
At the NCCYM Youth Ministry Extravaganza last December, all the performers were told to wear ugly Christmas Sweaters for the opening number.  Shannon's was a homemade number, with a picture of his cat wearing a Santa hat, and the back prclaiming "Mew-y Christmas!"
Orin however went for a store-bought number, from (where else) Cracker Barrel.  It's a beautiful size 3x women's sweater, sleeveless, with a faux-fur collar and dancing elves.  He's also wearing something Christmassy on his head, but is a little fuzzy about just what that was.  Shortly before going on, it was suggested, in the spirit of strange humor and entertaining a room full of youth ministers, that Orin go without the long sleeved shirt underneath he had planned to wear.
Anyway, after the big dance number, to fill a little time, we all returned to the stage, one by one, for a sweater judging.  Here, Gene (almost not pictured) is appeasing the animal rights folks in the crowd by making sure they knew the collar was made of fake fur.
A moment later he raised Orin's arm to show them what real fur looks like.  Yeah.  Try to get that image out of your head.